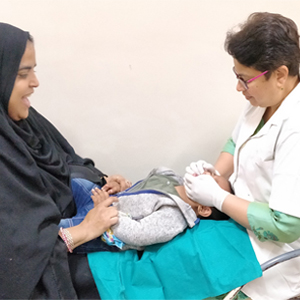 Every parent wants to keep their new-born child healthy and happy. Oral health is an important part of your child's overall health, and therefore oral health care should begin at birth. We encourage you to begin wiping your child's gums with a clean, wet cloth after feeding. This practice will help remove bacteria and sugars from his mouth. It also helps to condition him/her to a future brushing routine.
The first teeth usually appear between 6-12 months of age.  As soon as teeth are visible, it is appropriate to brush them twice daily using a soft finger toothbrush without toothpaste. Once the molars appear around age 12-15 months, start using a smear of toothpaste along with the toothbrush.
It is the recommendation of the American Academy of Pediatric Dentistry and the American Academy of Pediatrics that your child's first dental visit should occur by age one, in order to establish good oral health practices and detect and prevent any possible problems such as early childhood tooth decay. We encourage you to bring your infants even before that, so that all your queries regarding child?s mouth and teeth can be answered and a proper oral health care routine can be demonstrated to you.